Little Lamb ORGANIC Cotton nappy 30% OFF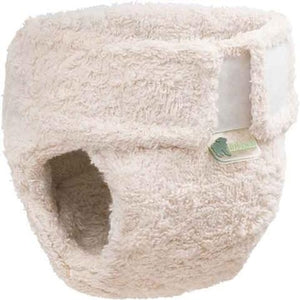 Quick Guide: Little Lamb ORGANIC
Our opinion:
Lovely absorbent organic nappies. Great if you're after natural fabrics. They can be a little chunky and are quite slow drying - but not as slow as bamboo! Good as a nightime nappy.
Drying time:
Reasonably slow
Absorbency:
Very good
Slimness:
Average
Popularity:
Popular with those wanting organic fabrics.
Weight range:
Size 1: 7-20lbs,
Size 2: 20-38lbs
Approx Age range:
Size 1: birth to approx 6-8 months,
Size 2: 6-8 months through to potty training
You'll also need:
Waterproof wrap

, 

Nappy liners,
These organic cotton nappies by Little Lamb are fastened with velcro for a quick change. They provide a very good level of absorbency. Use with a separate waterproof cover to provide a waterproof layer between the nappy and baby's clothes.
Fabric composition: 90% organic cotton / 10% microfibre. The small amount of microfibre helps to hold the shape of the nappy.
Organic cotton is difficult to come by at the moment and so we're unable to replenish our stock. Once they're gone, they're gone.