Slim bamboo booster by Baba & Boo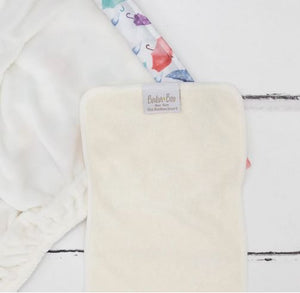 Baba & Boo Slim Inserts are made of 2 layers of bamboo.
1 insert
They are the same size as the inserts which come with the Baba & Boo Onesize nappies but, rather than being made of 4 layers of fabric, they are made of 2 layers.
Most younger babies start out using just one insert in their nappy, but the time will come when they need additional absorbency. Putting 2 standard inserts in the nappy can, however, make the nappy too bulky and can draw the elastication of the nappy away from the legs, leading to leakage. The new SLIM insert offers a halfway-house, allowing you to get extra absorbency without making the nappy to bulky.
80% bamboo, 20% polyester