Toilet wipes - bamboo wipes by Little Lamb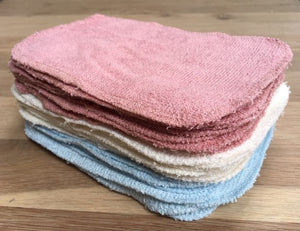 Pack of 10 washable wipes.
Bamboo is naturally anti-bacterial and anti-fungal.
Approx size: 19 x 14 cm
Single layer bamboo viscose.
For many, washable wipes in place of toilet paper sounds a little odd. But here are a few reasons to consider bamboo wipes:
they are lovely and soft
when dampened will give a far better clean than dry toilet paper
they are better for the environment - are we really cutting down trees to wipe our bums??!!
The easiest way to start is just to use them after a wee. So, here's how they work:
keep a stash of them near the toilet
you can dampen them before use or use them dry
after use, wash them through in the sink to use again or store in a little container or small wet bag next to the toilet to go in the washing machine next time you do a wash
different colours mean different family members can have their own wipes
Why not give them a go - you may surprise yourself!!
There are other washable wipes you can use for this purpose but we find that the Little Lamb wipes are just the right size and are quite thin, alowing them to dry out quickly.