Trial - NIGHT TIME nappies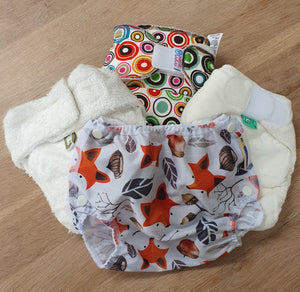 This trial pack is made up of nappies which give good absorbency and are therefore ideal for use at night.

Many brands such as BumGenius, Charlie Banana, Tots Bots Easyfit Star and FLIP are ideal for easy use during the day but can struggle over night on older, wetter babies. This nappy kit contains nappies that can help to solve this problem. As most babies don't encounter night time problems until they're older we have included larger size nappies but if you'd like small nappies just let us know at the bottom of your order.
These nappies tend to be slow drying so may not be suitable for those without a tumble dryer.
The kit contains
These nappies all require a separate waterproof cover. If you do not have your own existing cover you can add one to the kit - just add it on the menu above. 
1 x Motherease Airflow (select size and design at the bottom of your order )
Our trial packs are just examples of what you could get in a trial kit. If you'd like to select your own options just let us know and we can customise a kit for you. If you need further advice on which trial kit will suit you best just get in touch.