Bamboo breast pads by Little Lamb (5 pairs)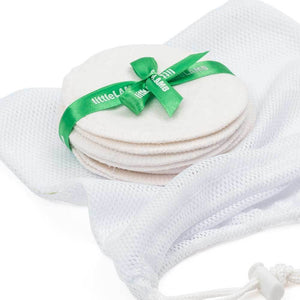 Pack of 5 pairs of supersoft breast pads in a mesh bag.
Sizes:
small (11cm diameter)
large (13cm diameter)
Little Lamb washable breast pads are very soft, slim and discrete when tucked inside your bra. A great, more natural alternative to disposable breast pads.

The double layered bamboo fleece has a laminate backing inside to stop any leaks.

The 11cm diameter pad is suitable for most nursing mothers. The larger is perfect those larger ladies amongst us!
Washing instructions: wash the pads at 40 degrees. Wash 3-4 times before use to remove all loose fibres. Avoid fabric conditioner as this reduces their absorbency.