Bamboo-mix Booster Pads by Baba & Boo x 2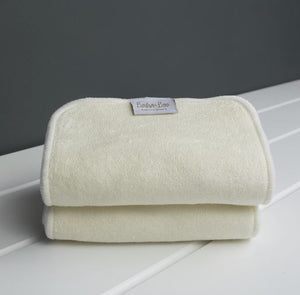 Pack of 2 boosters
Baba and Boo nappies come with 2 of these inserts however you may need extra boosters for night time absorbency, travel etc.
These bamboo-mix boosters are made with 2 outer layers of bamboo and 2 inner layers of microfibre. They provide a great mix of slim fitting and super absorbent qualities while being reasonably easy to dry. You may also like to try a charcoal booster  – this is the king of boosters! 
Inserts are 36 x 14cm.
70% bamboo, 30% microfibre.
Before using your inserts, it is always a good idea to give them a couple of pre-washes, this really helps with absorbency. Otherwise, the wetness can just run off the fabric.