Bigger Weeds Nappy Absorbency Pads by Hemp Babies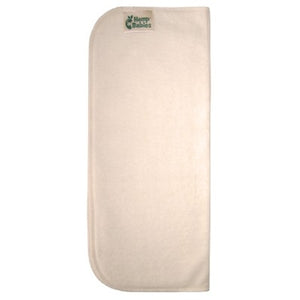 Hemp Babies™ Bigger Weeds provide excellent absorbency to washable nappies. They are prefold nappies which can be folded into 3 layers and have 2 lines of stitching along their length to aid the folding.
They can be used as the main source of absorbency within a waterproof wrap or pocket nappy, or can be added as a booster pad to other washable nappies. Hemp means that the pads are slim yet very absorbent.
55% Hemp, 45% Certified Organic Cotton
The Bigger Weed booster measures approx. 16" x 16" unfolded, 40cm x 40cm, and holds approx 500ml. Expect some shrinkage after washing.
Two layers of hemp ensure sure that your nappy washes easily and dries quickly. Hemp Babies Bigger Weeds fold in thirds for six thirsty layers of hemp absorbency.

Pre-washing Bear in mind that these pads will need around 4-5 pre-washes before they reach maximum absorbency. During this process the pads will become more absorbent but are expected to shrink slightly. They may also lint, so bear this in mind if putting them through the wash with other items.