BumGenius Original V5 replacement inserts - set of 2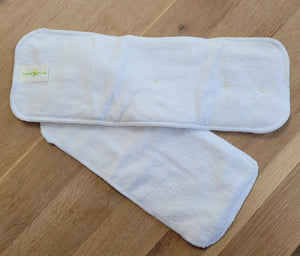 Do you have BumGenius V5 nappies with missing inserts? Maybe you've bought them second hand or had them passed to you by a family member of friend.
This set of 2 micro-fibre inserts is made up of:
1 x small, thin insert
1 x longer thicker insert with size adjusting popper
Together they replace the inserts which come with the BumGenius V5 (but they could be used in most pocket nappies).