Easy Peasy Newborn Nappies (Eco Bimble and Newtt)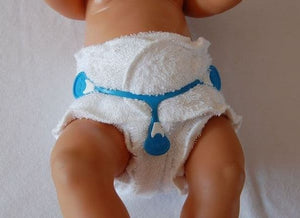 Regular price
£6.50
Sale price
£6.50
Easy Peasy newborn (size 0) nappies are extremely popular. They fit from approx 7-15lbs, they are very small and neat, and provide an affordable economy option for the first few weeks after birth. They are incredibly cute on tiny babies and are therefore one of our best selling reusable nappies.
The nappies are gently elasticated around the back and legs, fastened with a Nappi Nippa (bought separately) and used with a waterproof cover (bought separately) - giving excellent containment, far better than disposable nappy options.
Eco Bimble: 1 layer of terry towelling on the outside with 1 layer of soft microfleece on the inside (next to baby's bottom). Between the two layers you'll find a pouch - this can be 'stuffed' with a booster pad (1 removable pad is included in the price) made up of 2 layers of terry towelling. You can use the nappy without the pad initially for a tiny baby (keeping the nappy really tiny) and then add the pad when more absorbency is required. Once the nappy is outgrown you can use the pad again as a booster pad in larger sized nappies such as the Easy Peasy Bumble which will then fit baby through to potty training.
Newtt: this nappy is designed for those wanting to stick with natural fabrics so there is no fleece layer built in. It is simply made up of two layers of terry towelling

** These fabulous washable nappies are Hand Made and Designed in Oxfordshire **