Easy Peasy XL Bumper nappy - 30-50lbs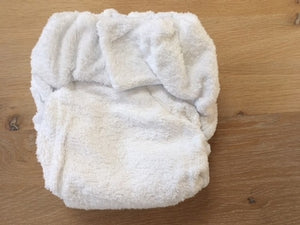 Our Quick Guide to the Easy Peasy Bumper XL
Our opinion:

The EasyPeasy Bumper is a great absorbent nappy for larger toddlers and young children. It will fit most 3-4 year olds. It can be quite bulky but is absorbent enough to see most toddlers through the night. The towelling version is fitted with a Nappi Nippa for a really good fit, while the bamboo version is fastened with a series of poppers. If you're not too concerned by bulk, this is a fabulous nappy.

Drying time:
The towelling version is reasonably easy to dry (but it helps to have a tumble dryer as back-up). Bamboo will be slower drying.

Absorbency:
Very good
Slimness:
Can be bulky. Bamboo version is lightly slimmer.
Popularity:
Popular for older toddlers and children still in nappies
Weight range:
30-50lbs
Approx Age range:
3-5 year olds.
NB. The towelling version requires a Nappi Nippa to fasten it (bought separately). Both the towelling and bamboo nappies require a separate waterproof wrap (bought separately) - we recommend the Motherease Airflow wrap in the XL size.
You'll need around 1 wrap to every 3-4 nappies. When changing the nappy, the waterproof wrap often comes off clean so can be used again for a few more nappies (wash the wrap if it has poo on it or when it becomes a bit smelly!)