Eco Femme Full Cycle Sanitary Pad Kit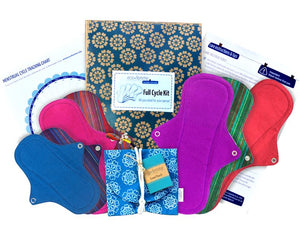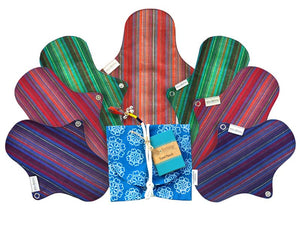 Product image 1

Product image 2

Full Cycle Kit
This starter kit is ideal for those who wish to get started with Eco Femme reusable sanitary pads - the kit contains a nice mix of sizes for different days of your period. The sizes are easy to tell apart as each size is a different colour.
Eco Femme washable pads are made with soft cotton, and a metal popper fastening to hold them in place.  The plain side goes next to the skin, with the print side next to your underwear. All the pads contain a PUL leakproof layer for your peace of mind.
The kit contains the following products:
2 x panty liners
2 x day pads
2 x day pad plus pads
1 x night pad
1 x canvas travel pouch, full instructions on care and use
Every starter kit sold generates a donation of 3 Eco Femme pads to a girl in India through the Eco Femme Pad for Pad Program.
Eco Femme products are made by a women's empowerment project in India, which also works to educate and inform local women about their menstrual cycle.  For every Eco Femme pad we sell, £1 has been donated to the Eco Femme Pad 4 Pad project, funding free reusable menstrual pads for Indian schoolgirls.  This enables them to continue their education.  Sadly, the onset of menstruation and lack of suitable products to use is still a leading cause of girls dropping out of school in poorer areas. See the Ecofemme website for more information.