Hemp hourglass booster by Little Lamb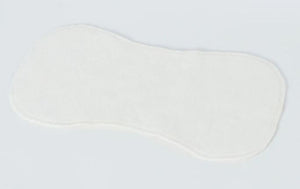 The hourglass-shaped hemp boosters by Little Lamb are generously sized to give great  coverage and absorbency to your cloth nappies.
The hourglass shape allows more of the nappy to be covered than standard rectangular booster pads.
Made to fit Onesize nappies and size 2 and 3 nappies.
Measures approx 35 x 18cm (15cm at narrowest point). Allow for some shrinkage.
They are made for heavy wetter, night time wetters or for when baby is stuck in the car seat for an extended time.
Hemp boosters need to be pre-washed up to 10 times before they reach their full absorbency.