Little Lamb bamboo boosters - DOUBLE thickness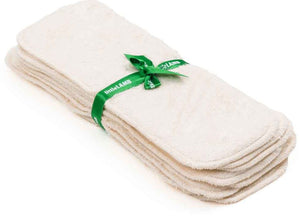 These 2-layered bamboo nappy boosters by Little Lamb can be bought as a single booster pad or a pack of 5.
Size 1: approx 290 x 105mm
Size 2: approx 335 x 130.
Booster pads are generally not required for younger babies but may be required on older, wetter babies, certainly when they start sleeping through the night or during long car journeys when extra absorbency is required.
These are the same as the 2-ply boosters which come in the Little Lamb pocket nappies.

Made from Oeko-tex 100 certificated bamboo yarn.
These booster pads are ideal for use in Little Lamb nappies as well as other nappy brands.
Please note that the images shows a 10-pack of pads - these are no longer available. We now only sell in singles and packs of 5.