Little Lamb Bamboo Pocket Nappy Inserts 20% OFF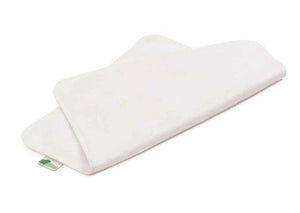 These superbly soft bamboo inserts by Little Lamb are designed to fit inside a range of pocket nappies including the Little Lamb sized nappies but also many other brands such as BumGenius, Elemental Joy and FLIP. They can be used in place of less absorbent microfibre inserts or can be added as boosters to give extra absorbency where required (night time, long car journeys etc). They're also super-soft.

They are made from 100% Oeko-tex yarn and is woven rather than knitted to keep the bulk down. They are three times as heavy as our standard bamboo booster and absorb three times the quantity of fluid.

As there are no seams they dry reasonably quickly - quicker than a similar cotton insert.

Being woven, and not knitted, they will shrink up to 10% in size after the first few washes but that doesn't affect the efficiency.
Pre-washed dimensions -
Size 1: 31 x 33 cm
Size 2: 33 x 34 cm
Size 3: 32 x 40 cm
They pads can be folded into 2 or 3 to give a variety of different pad sizes and thicknesses depending on the size of baby and the absorbency required.