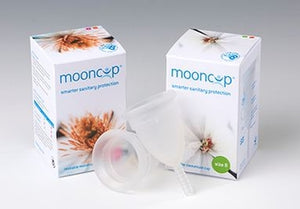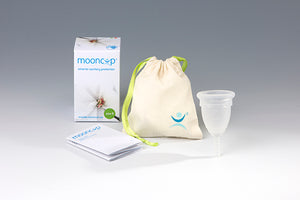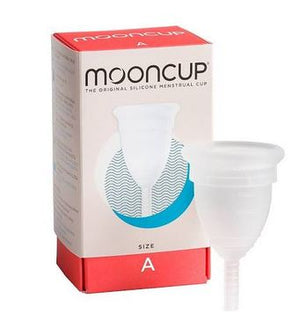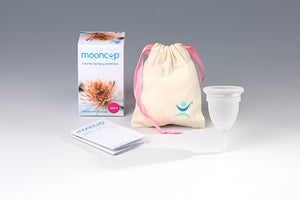 Product image 1

Product image 2

Product image 3

Product image 4

Sizing
Size A is recommended for women over the age of 30 who have given birth vaginally or who have had a caesarean section.
Size B is recommended for teenagers and women under 30 who have not given birth or who have had a caesarean section
Please ensure that you select the correct size. For hygiene reasons we cannot exchange Mooncups once they have been dispatched.
What is the Mooncup?
The Mooncup is a reusable menstrual cup around two inches long and made from soft silicone rubber. It is worn internally like a tampon but collects menstrual fluid rather than absorbing it. Unlike tampons the Mooncup is not a disposable product, so you only need to buy one.
The Mooncup will hold 30ml of fluid, which is roughly one third of the average total produced each period. A light seal is formed with your vaginal walls allowing your menstrual fluid to pass into the Mooncup without leakage or odour. You will probably find that you need to empty your Mooncup less frequently than you currently replace towels or tampons.
Why is it better?
The Mooncup menstrual cup contains no bleaches, deodorisers or absorbency gels. It does not interfere with your healthy vaginal environment.
The smooth surface of the Mooncup allows the mucus membranes of your vaginal wall to continue their essential cleansing and protective functions. The Mooncup does not absorb your body's natural defence mechanisms and will not deposit fibres in your vaginal wall.
The Mooncup will not cause irritation and is suitable for women with sensitive skin, thrush, eczema or allergy.
For your safety the Mooncup is made from a special medical grade non-allergic silicone. Silicone is derived from silica which is one of the most abundant minerals on earth. The Mooncup is manufactured in the UK.
The Mooncup can be cleaned in the same way as baby equipment: with sterilising fluid, or by boiling for five minutes in an open pan of water.
Unlike pads and tampons the Mooncup menstrual cup is reusable, eliminating the need to carry bulky spares. With proper care your Mooncup will last for several years.

Imagine the towels and tampons that you will be disposing of in landfill sites during those years!
How easy is it to use the Mooncup menstrual cup ?
Correctly inserted, the Mooncup is so comfortable that you will forget it exists. It may take a little practice at first as you need to find the angle and position that is right for you.
Once you have perfected it you will be amazed at how simple the Mooncup is to use. You will need to empty, rinse or wipe and reinsert your Mooncup every four to eight hours depending on your flow. The fluid remains inside the cup, and the process is not messy or uncomfortable.
The Mooncup can safely be used overnight and is great for all sports, swimming and travelling.
Which size will I need?
The Mooncup is available in two sizes.
Size A measures 46mm in diameter and 50mm in length.
Size B measures 43 mm in diameter and 50mm in length.
Both sizes have a pull stem 21mm long, which you can trim to the length that is right for you.
Please note that women over the age of 30 years old are increasingly likely to need the size A regardless of giving birth. This is because the tone of vaginal and pelvic floor muscles naturally reduces with age but to varying degrees in different women. Some activities will maintain tone, such as yoga, pilates, dance, so if you are advanced in any these, or similar activities take this into consideration when choosing which size you need. Corrective surgery to the vagina will also have implications.
For more information (including testimonials) go to www.mooncup.co.uk