BULK BUY: Motherease Wizard Duo 2-part nappies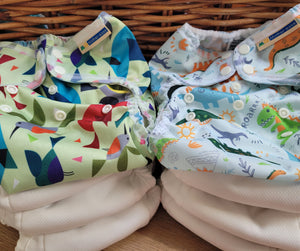 The Wizard Duo by Motherease is a really reliable, flexible reusable nappy system which gives you a set of nappy inserts which popper into waterproof wraps. You'll find that, when changing the nappy, the waterproof wrap often comes off clean so you can just popper in a clean insert and use the wrap again. Simple. 
This Motherease Wizard Duo multipack gives you the following options:
The Onesize wraps and inserts fit from approximately 10-35lbs (4.5-16kg). 

available in Natural Unbleached Cotton or Stay Dry fabrics

Please list your top 5 colour preferences for the covers in the 'notes' section of your order and we will do our best to accommodate this, subject to availability.