Motherease Wizard Duo All-in-Two Part Time Nappy Pack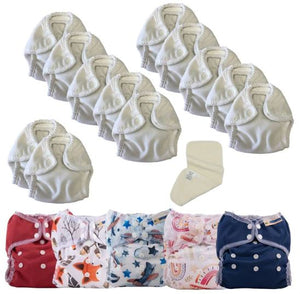 The Wizard Duo Part-time Package by Motherease provides you with a generous days' worth of cloth nappies and covers, to allow for washing every night.  It's a great place to start and you can add extra covers or inserts to it once you get a feel for how many more you need to turn it into a full-time package.
Sizing: One Size 10-35 lbs (4.5-16kg) - almost 'birth to potty'

This package includes:
10 x Absorbent Wizard Duo Fitted Inserts - Daytime Dry*
2 x Absorbent Wizard Duo Fitted Inserts - Night Dry
5 x Wizard Duo Covers**
1 x Absorbent Liner

*The fitted inserts in this package come in the 'Dry' version. If you'd prefer the 'Natural Cotton Terry' version get in touch and we can customise it for you.
**The kits come with a random selection of wrap colours/designs. If you have any specific colour requirements let us know and we will do our best to accommodate this.
---
The Absorbent Wizard Duo Fitted Insert is the cloth nappy component of the All-in-Two cloth nappy system - it provides the absorbency.
The absorbent Duo Fitted Insert snaps inside the Duo Cover. Once complete, your All-in-Two cloth nappy is ready to be used on your baby.
When the Duo Fitted Insert becomes wet or soiled, simply unsnap from the Duo Cover and replace with a clean one, reusing your waterproof cover 3-4 times before having to launder.
The Wizard Duo Cover is a lightweight, waterproof All-in-Two nappy cover. It prevents wetness from the insert wicking out onto baby's clothes.
The Duo Cover features adjustable waist and rise snaps for a secure, tamper-proof fit. Fully elasticized waist, both in the front and back, for a comfortable stretchy fit. It can be reused a number of times by snapping in a clean Absorbent Duo Fitted Insert.
The Wizard Duo Diapers run true to size. The Absorbent Wizard Duo Fitted Inserts snap inside the Wizard Duo Covers to ensure a leak-free diapering system. Due to the snaps located inside the Duo cover, we do not recommend using it with prefolded or flat diapers.
PUL Style
Classic (thicker) PUL print/color options: Oceans, Savanna, Wetlands, Rainforest, Coral Reef, Yellow Sundance, Orange Sunset, Teal Tidewater, Blue Raindrop, Seafoam Green, Wood Violet.
Fashionables (thinner) PUL print/color options: White, Cranberry, Navy, Mustard, Foxy, Orchard, Tweet, Earth Day, Pine, Flight, Dino, Dream, Adventure Awaits.