Trial - BESTSELLING nappies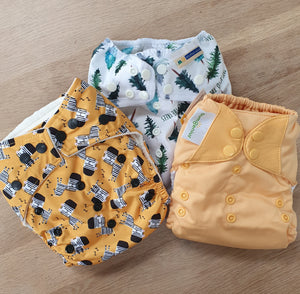 Regular price
£58.89
Sale price
£61.98
This trial reusable nappy kit contains:
These nappies all have the following features:
they fit baby from approx birth up to potty training (from around 10-35lbs)
have a built-in waterproof layer
oh-so easy to use - perfect for dad's, grandparents, nursery and quick changes on days out.
If you would like specific colours please put a note on your order and we will try to accommodate this. Colours shown are just an example of colours available. Please note that you can select any design for the Wizard Uno and Baba & Boo nappies but the price only includes plain colours for the BumGenius. If you'd like to take a limited edition print in the Bumgenius let us know and we can upgrade it for you (there will be an extra cost of £1.90).
If you need further advice on which trial kit will suit you best just get in touch.