Absorbent Bed Pad / mattress protector by P&S Healthcare 90x90cm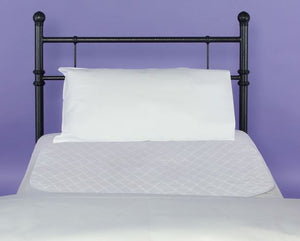 Absorbent bed pad  / mattress protector with waterproof backing by P&S Healthcare:
Holds approximately 2.5 litres of fluid
Can be machine washed up to 90 degrees 
Bed pad can be dried in a tumble dryer
Rapid Absorbtion with a waterproof back to protect the bed
Available in White


The Economy Bedpad (without wings) comprises of 3 layers, a soft brushed fabric top, with a rapid absorption soaker centre fitted with a non-penetrable waterproof backing. This product is designed to rapidly absorb any fluid that hits the surface giving the user a confidence of comfort throughout its use.
As well as having undergone anti-static treatment the prodiuct also incorporates Microsafe technology. This is to control the formation of any bacterial or fungal growths. The entire product is latex free. The dge of the bed pad has an overlocked finish. 
Product Information
Size: 90cm x 90 cm
Absorbtion: 2.5 Litres approximately