BULK BUY: BumGenius V5 / Freetime reusable nappies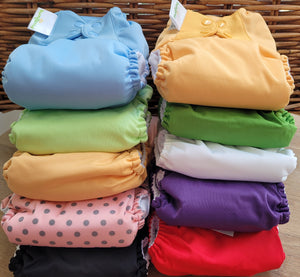 MULTIBUY on BumGenius nappies
Save when buying 5,10 or 15 BumGenius Original V5 or Freetime nappies.

Buy 5 save 5%
Buy 10 save 7%
Buy 15 save 10%
Select whether you'd prefer V5 or Freetime nappies. You can also choose to take a combination of V5 and Freetime nappies - just put a note at the bottom of your order.
Please also note your colour preferences at the bottom of the order. You can choose any combination of colours (subject to availability).