Pop-In night time booster - single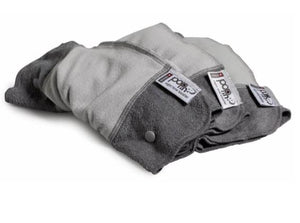 The Pop-in nappy nighttime booster gives a large absorbent boost to your washable nappy and is designed to last through the night.  A large piece of bamboo fabric with extra microfleece in the middle which folds in thirds giving multiple layers of added absorbency when it's needed.  Simply place the Pop-in night-time booster inside your nappy.

Double sided, use skin friendly bamboo or stay dry fleece next to bum
Fits perfectly inside the Pop-in nappy but works equally well with any brand of nappy.
Shaped to follow the contours of a nappy
Super absorbent designed for night times
Composition
Pile: 70% Bamboo viscose with 30% cotton
Base and top layer: 100% polyester