Real Nappies for London Trial Kit -Newborn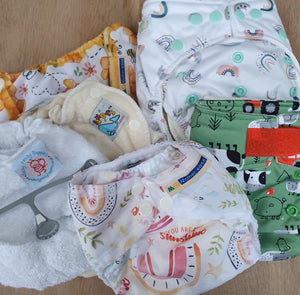 This newborn nappy kit has been put together for those people looking for a mix of different newborn nappy types - allowing you to compare and contrast many of the different options available. The value of the kit is £70 so is ideal for those wanting to use their £70 Real Nappies for London scheme voucher and want to keep things nice and easy. If you'd prefer to choose your own nappies that's absolutely fine too.
Most of these nappies will fit from around 8lbs (3.6kg) up to around 12-18lbs (5.4-8kg) depending on the brand. They are therefore only for the first weeks after birth. They will be nice and neat on newborn babies but will be outgrown reasonably quickly. Once outgrown you will then move on to the 'One-size' nappies which fit from around 10lbs (4.5kg) through to potty training. We have included a Baba & Boo Onesize nappy in the kit so that you can see the size of the Onesize nappy and when is the right time to move up to it.  
The newborn kit includes:
Colours shown on images are just an example of colours available. If you would like specific colours please put a note on your order and we will try to accommodate this.