Easy Peasy Bimble nappy (sized options)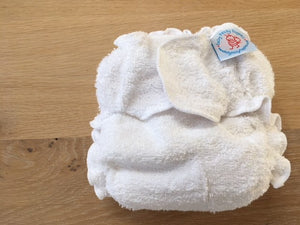 Regular price
£9.00
Sale price
£9.00
Size options:
Newborn options: approx 7-15lbs

Size 1: approx 8-20lbs
Size 2: approx 20-35lbs
Our opinion:

The Bimble is a lovely soft, white, fleece-lined nappy. It comes in 3 sizes but most babies will only need 2. Fitted with a 'Nappi Nippa', it gives a really good fit and thus fantastic containment - very few leaks! Requires a waterproof wrap. (Don't be put off by the Nappi Nippa - it really does give a great fit!)

Drying time:
Quite easy to dry (but it helps to have a tumble dryer as back-up).
Absorbency:
Very good
Slimness:
Can be a little bulky.
Popularity:
Popular  - lovely soft nappy with great containment.
Weight range:
Available in 3 sizes from preterm up to potty training.
Approx Age range:

Birth through to around 2.5 years

Similar Brands:
Slower drying Tots Bots Stretch
You'll also need:
Waterproof wrap, Nappi Nippas,
Terry towelling outer. Fleece inner layer.
NB. This nappy requires a Nappi Nippa to fasten it and a separate waterproof wrap. We'd recommend the Motherease Airflow wrap. You'll need around 1 wrap to every 3-4 nappies. When changing the nappy, the waterproof wrap often comes off clean so can be used again for a few more nappies (wash the wrap if it has poo on it or when it becomes a bit smelly!)